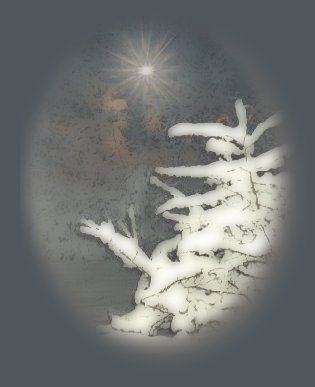 Old Man Winter came calling today
Waving to us with a jolly "Hello!"
He jumped in joy as we came out to play
To make snowballs instead of Jell-O.



Soon we all thrashed about in delight
Making angels in the soft covered ground,
Leaving wee little imprints in the white
It was laughs and giggles all around.



As the sunlight eventually began to fade
And our childís play had to come to an end,
A "So long!" to Old Man Winter we bade
As once again we left our dear old friend.



In the twinkling light of the stars and moon
The adults snuck outdoors for a time to play.
The icicles waved us a right jolly good tune
As we cuddled the winter eveís chill away.



Like children we left our prints in the snow
Arms around each other as we walked along.
The evening of white warmed our hearts aglow
As we gave ear to Old Man Winterís song.



© 2002 Ruth Norman

Photo for this page & poem
Provided by Mian
Taken in Helsingborg, Sweden
December 2001



Free JavaScripts provided by The JavaScript Source

Original music composed by Tom Williams III.
Copyright © 1996-2000 Tom Williams III.
Used With Special Permission of the Composer.
Visitors: Do Not Remove This File From Its Current Location.
Contact Tom Williams III
to learn conditions of use of his original music.

All poetry & writings, photos, graphics & midis are copyrighted.
Please respect my wishes that they not be used...
Nor be removed from the pages of abitosunshine...
Without the written permission of myself or the artist.
Your cooperation is appreciated.